Our Corporate Profile
HUGHES AND HUGHES CHEM LTD. (HHCL)
Hughes and Hughes Chem Ltd. (HHCL), is a public limited company which was set up in 1991 with Technical and Financial Collaboration of Hughes & Hughes Ltd. of United Kingdom; a British company established in 1924 which is engaged in the production of several Products.
The Company has its State-of-the-Art factory at Gurgaon and Jammu and markets its products through a two tiered model which involves a direct sales network and franchise based business associates.
Hughes and Hughes Chem Ltd now has tie ups with companies from Australia, Italy, Germany and Canada in Industries ranging from Aviation to Railways.
Today Hughes and Hughes Chem Ltd is a leader in India when it comes to bringing new technology and methods to a developing nation. We are experts in Supply, Testing, Installation and Commissioning of Complex Systems related to Railways, Defense and Aviation Industry. Our expertise lies in offering products as a service which is the growing need of our country.
Milestone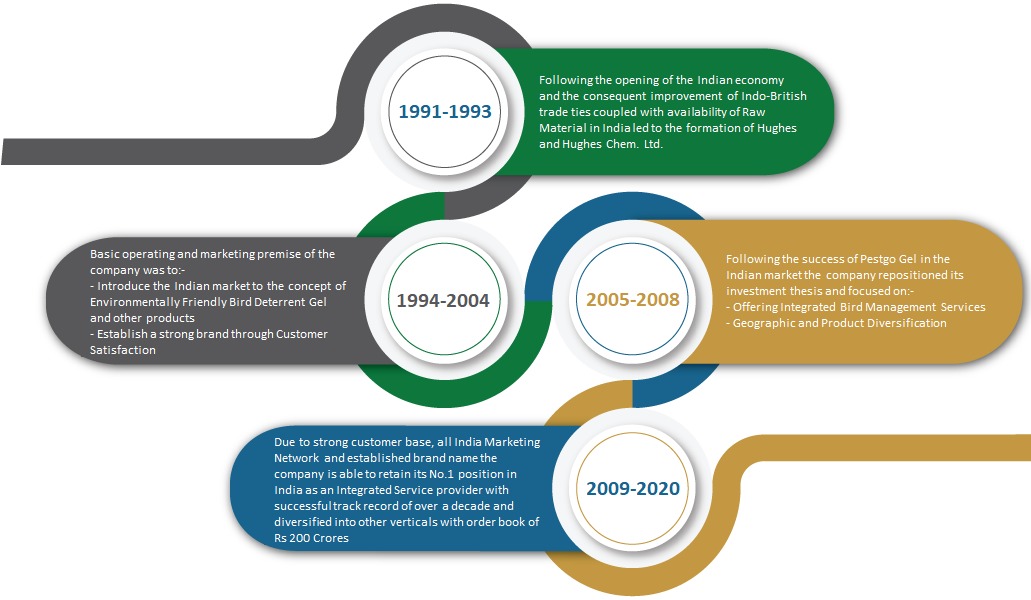 Ahmedabad
Allahabad
Bangalore
Bareilly
Bhavnagar
Bhopal
Bilaspur
Chennai
Coimbatore
Dehradun
Delhi
Ernakulam
Gorakhpur
Gurgaon
Guwahati
Haridwar
Hyderabad
Indore
Jaipur
Jammu
Jhansi
Lucknow
Madurai
Mangalore
Moradabad
Mumbai
Muzaffarpur
Mysore
Patna
Porbandar
Pune
Raipur
Rajkot
Salem
Secundrabad
Surat
Tinsukia
Trivanduram
Tuticorin
Valsad
Varanasi
Vishakhapatnam
We Provide Environment Friendly Solutions